Paul Harris (Canada) and Dan Winter (USA/France) along with their business partner Roger Green (NZ/NYC), over many years of development have combined the unique theory of the Fractal Bio-Active Unified Field with the most cutting edge electrical engineering available today.
The Theraphi is the invention of Paul Harris providing the skills for bio-active plasma engineering and with Dan Winter providing frequencies based on his IP with the Phi ratio of Hydrogen.
Roger Green
Roger Green originally from New Zealand, is a health educator and Director of the Academy Healing Nutrition (based in New York City and Prague) a 30-year curriculum specializing in herbal and food medicine, where he has assisted thousands in their natural recovery from disease through low cost earth friendly methods. An international businessman based in New York, he has been active for over 25 years in alternative energy systems, eco-design initiatives, and natural healing education around the world. He is also the Director of Breakthru - Technologies Company, which has developed many R & D projects including emerging cold fusion technology referred to as the 'Ecat". Ref
www.AcademyHealingNutrition.com
,
www.Breakthru-Technologies.com
and
www.ecat.tech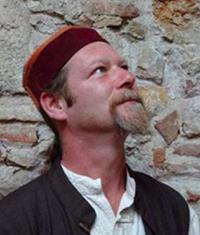 Paul Harris
Paul Harris is a Canadian inventor and researcher. He has taken a multidisciplinary knowledge-base approach to a wide area of studies including Herbology, Permaculture, Water Technologies, Alternative Fuel and Energy Systems, Electronics, Chemistry and Plasma Physics. Paul has found this diversity necessary in understanding the fundamental principles behind the workings of nature. He has taught courses on practical Alchemy, Sacred Geometry, and alternative energy systems for the past 20 years .
Paul Harris engineered the Theraphi which uses a non destructive single carrier wave to modulate our complex waveforms, creating multiple RF induced fields mixed in an ion plasma tube, referred to as 'The Conjugator'. Various noble gases and frequency cascades were tested until the perfect mix was achieved. The Theraphi system uses longitudinal EM waves and time-polarized EM waves that penetrate every cell and atomic nucleus in the body. The fact that such signals can reverse nearly every major cellular illness of the body has been proven by Priore and is in the French scientific literature. The electrodynamics that results from this technology are part of the emerging "Fractal Unified Field Theory".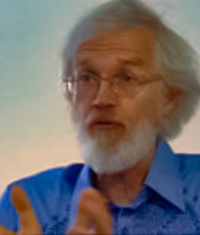 Dan Winter
American inventor Dan Winter developed new wave equations derived from Planck length of the hydrogen molecule and its phi-ratio harmonics, which predict the core frequencies that Priore used in his remarkable healing devices. This new mathematical theory, an original discovery by Dan Winter gives us the breakthrough for our advanced technology. Among his many projects, Dan is developing a new breakthrough theory on gravity. He believes recursive nesting in field geometries is what creates the implosion "magnetic monopole" wind centering force we call gravity.